NEWS
Arnold Schwarzenegger Brought Maria Shriver to Love Child's Christening With Mildred Baena?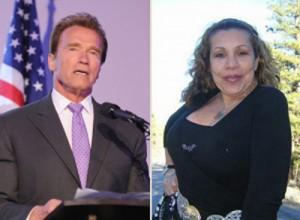 Arnold Schwarzenegger had reportedly been including Maria Shriver and his family in his web of lies. According to a new report, Arnold brought Maria and her children to the christening of his love child. Arnold and his family attended the christening of his love child, allegedly with ex-housekeeper Mildred Patricia Baena, in 1998, according to TMZ.
Article continues below advertisement
A family photo, obtained by TMZ, shows Arnold, Maria and two of their children standing next to Mildred and the son she had with Arnold.
Arnold reportedly spent some quality time with Mildred and their son, and served as a father figure in some situations.
TMZ obtained a gallery of family photos, including a picture of Arnold teaching the boy, who is now 13, how to golf.
MORE ON:
Mildred Patricia Baena