NEWS
Arnold Schwarzenegger Not Listed as Father on His Son's Birth Certificate With Mildred Baena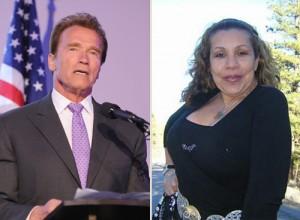 Looks like Arnold Schwarzenegger covered his tracks well. The former governor of California is not listed as the father on the birth certificate of the son he fathered with his household staffer, Mildred Patricia Baena, 13 years ago.
TMZ posted a copy of the birth certificate for the son that Arnold fathered out of wedlock with Patty, who reportedly worked as a "housekeeper/assistant" for Arnold and his wife, Maria Shriver.
Article continues below advertisement
On the birth certificate obtained by TMZ, Arnold is not listed as the father. Patty listed her then-husband, Rogelio Baena, as the dad.
Their son was born on October 2, 1997, at Saint Joseph's Hospital in Burbank, Calif. He is now 13.
According to TMZ, Patty made $1,200 a week in the Schwarzenegger-Shriver household and was "treated well by Arnold once he found out" about her pregnancy, adding Arnold was always "generous."
Patty reportedly now lives in a 4-bedroom house with a pool, several hours outside of L.A. She has three other children.
Maria and Arnold announced their separation last week, after 25 years of marriage.