NEWS
Arnold Schwarzenegger Paid Big Bucks on Home for Alleged Baby Mama, Report Says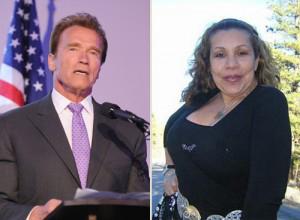 Arnold Schwarzenegger certainly made sure his son out of wedlock with alleged baby mama Mildred "Patty" Baena was taken care of financially. A recent report claims the former governor of California put a pretty hefty down payment on a house for the household staffer he fathered a child with.
TMZ reports Arnold dropped a "$65,000 down payment on a house" for his former housekeeper Patty — who allegedly gave birth to his love child 13 years ago.
Article continues below advertisement
Arnold allegedly bought the house for her as a gift.
TMZ obtained loan papers documenting that Arnold made the home payments in two installments from his own personal bank account — one for $5,000 in April 2010, and a follow-up payment in the amount of $60,000 in May 2010.
The funds were used "to secure a loan for Patty's house in Bakersfield, Calif.," TMZ reports.
Patty and Arnold's alleged 13-year-old love currently live there.
The home cost $268,000, meaning Arnold's down payment covered almost quarter of the final asking price.
Arnold revealed earlier this week that he fathered a child outside of his marriage with Maria Shriver.
OK! NEWS: ARNOLD SCHWARZENEGGER'S ACTING GIG GETS TERMINATED
The estranged couple announced their separation last week, and Maria reportedly hired top attorney Laura Wasser, a super successful divorce lawyer in Hollywood with clients ranging from Britney Spears to Angelina Jolie to Christina Aguilera!