NEWS
Arnold Schwarzenegger's Son is "Sweet & Handsome" According to Neighbors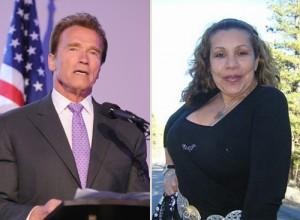 Reports about Arnold Schwarzenegger's love child with Mildred Patricia Baena — who was a member of the household staff at the Schwarzenegger/Maria Shriver household — keep developing. Arnold and Patty's son is reportedly 13 and according to his neighbors, who spoke to TMZ, the boy is a model child.
One of the boy's neighbors told TMZ, he "is the type of kid you just want to be around. He is so sweet, funny, and handsome."
Article continues below advertisement
TMZ also reports that Arnold's son is "extremely well-mannered and smart, loves sports, and is even involved in door-to-door fund-raising for local charities."
Yesterday, Arnold admitted to having a child outside of his marriage with Maria. TMZ has been confirming that Patty is Arnold's baby mama.
Reportedly, Maria and the rest of the family believed Patty was pregnant with her own husband.
Maria and Arnold announced last week that they were separating after 25 years of marriage.