NEWS
Arrest Warrant Issued for Lindsay Lohan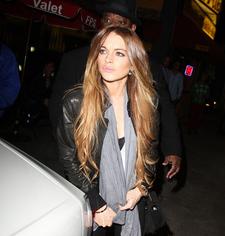 Always the magnet for scandalous headlines, Lindsay Lohan once again finds herself in trouble with the law after authorities in Los Angeles issued a warrant for her her arrest on Friday.
It is believed that the warrant, which carries with it a bail bill of $50,000, is related to a probation violation for La Lohan's 2007 DUI arrest.
Speaking to TV's Extra, Lindsay's attorney, Shawn Chapman Holley, released the following statement:
Article continues below advertisement
"Since her case was resolved, Ms. Lohan has been in compliance with all the terms and conditions of her probation and all orders of the Court. The warrant issued on Friday was, in our view, born out of a misunderstanding which I am confident I can clear up next week."
According to the Associated Press, a hearing is scheduled on Monday. In Aug. 2007, Lindsay pleaded guilty to two misdemeanor counts of being under the influence of cocaine, no contest to two counts of driving with a blood-alcohol level above 0.08 percent and one count of reckless driving. As part of the deal, she spent a grand total of only 84 minutes behind bars before being shipped off to rehab in Utah. She was also given three years of probation and could face up to one year in jail if she is found to have violated the terms of the probation.