NEWS
Artie Lange Released From Hospital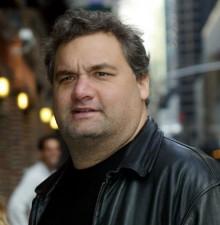 Artie Lange has been released from the Jersey City, N.J. hospital where he had been recovering after a suicide attempt on Saturday. The troubled comedian in his Hoboken, N.J., apartment before his mother discovered him and called 911. The details of his suicide attempt have finally been confirmed by police, E! News reports.
"Mr. Lange was found by his mother at 9:36 a.m. on Saturday," Hoboken Police Det. Lt. Mark Dompetello told E! News. "She called 911 when she found him in a pool of blood. He was semiconscious and then became unconscious."
Article continues below advertisement
"Our medics came. Apparently he had nine self-inflicted knife wounds, and it was ruled to be an apparent attempted suicide. There's no active criminal investigation."
Howard Stern and the rest of Artie's radio show team expressed their concern and well-wishes for their colleague. Howard, however, did speak about his feelings towards the media outlet that first reported on Artie's hospitalization on his Sirius XM radio show yesterday.
The King of Radio was troubled by the way the NY Post delivered the news of Artie's suicide attempt.
"I'm so upset about the story," Howard said. "I was actually hoping it wouldn't come out. I thought we were out of the woods with that... I really would love to know who the scumbag is who releases that information to the press. You know, who sneakily finds something out and tells the press, 'cause this really is a private matter and something that has gotten me so distressed, so upset and so bewildered, I don't even know what to think. I'm angry about it, I'm sad about it, I'm just all over the place emotionally about this whole thing."
Article continues below advertisement
Howard continued his emotional tirade about the NY Post's disregard for the personal nature of Artie's condition.
"I'm pissed off that this story got out there. I'm pissed off at the s--thead who maybe got paid 10 bucks to tip off Page Six. And honestly. I don't know what to say about this story. It's such a mind-boggling thing that's gone down, I don't even wanna in any kind of way say the wrong thing, or — I think the word is — exacerbate the situation."
Howard told listeners that he is "freaked out by the whole situation," and "Artie's demons ran deeper than I ever knew."
Howard wishes his sidekick nothing but the best and a full recovery.
"It's a miracle he's alive."