NEWS
Ashlee & Pete: Newlyweds 2.0?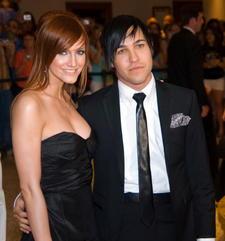 Get yourself ready for the return of MTV's Newlyweds — with a twist! Instead of Jessica Simpson and Nick Lachey, it's Simpson version 2.0 is coming your way, with Jessica's little sister, Ashlee Simpson, 23, and fiancé, Pete Wentz, 28, set to appear as the couple in the hit MTV format — at least if Joe Simpson gets his way!
Never one to miss a money-making opportunity, Ashlee's dad and manager Joe seems determined to turn this idea into a reality. "He knows that no one cared about Jessica before her reality show, and he's hoping a show for Ashlee will have the same effect," a source close to the singer tells OK!.
Article continues below advertisement
With a wedding on the horizon, a baby on the way and a famous rocker fiancé, Ashlee's life has all the ingredients for a reality show. (Ashlee and Pete's publicist tells OK! they are not set to appear in Newlyweds.) If the program comes off, let's hope the Bittersweet World singer's love story doesn't end the same way as her sister's failed marriage.