NEWS
Ashlee Simpson Wants More Babies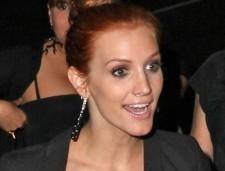 Ashlee Simpson sure has her hands full while caring for her ten-month-old son Bronx and playing Violet Foster on Melrose Place, but that isn't stopping her from wanting to have a big family with her husband Pete Wentz.
"Oh gosh-we definitely want a big family. We're young-we'll see. I would love to have a big family and I know Pete would, too," Ashlee told JustJared.com in an interview.
When asked if the rumor that that she kicked Pete out of the house for cheating she said, "No! Definitely not. I definitely never did…we're actually great. He's amazing - he's my best friend and my husband."
Article continues below advertisement
Ashlee and Pete had no problems working together and picking out the name for their son. "It's just something that we chose. Actually, Pete said the name and we both loved it and there was never any further discussion on if we loved that name or not - we just loved the name. It's tough and Mowgli's adventurous so you can be anything!"
The two enjoy playing Peekaboo with Bronx and helping him learn how to talk. Ashlee said, "Right now it's this cute little lispy kind of noise - he's always like makes noise. "Dada" was actually his first thing to say, then came "mama" - he says "dada" all the time! Dadada. He's great! There's nothing better, actually!"
Ashlee doesn't plan on recording anything anytime soon and says, "Right now I've got my hands full with Bronx and the show, so nothing at the moment. Whenever I get inspired by it and I'm ready to write again I will, but right now, I'm good."
Sounds like she might clearing out her schedule to get started on that big family she wants!