NEWS
Ashlee Simpson-Wentz's Last Word Outtakes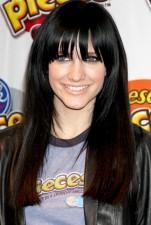 Ashlee Simpson-Wentz stands up to the Last Word challenge in the OK! on newsstands now titled "Ali and Jake's Secret Reunion."
Find out what you won't read in the magazine such as the story behind her curious nickname and her fast-food vice.
Last time you felt excited?
It's exciting being here today to launch Hershey's Pieces Candies. This is a fun event. Lots of chocolate everywhere. It's always nice to see fans. It was a good morning.
Article continues below advertisement
Last time you felt smart?
I think every time you do a show, you're definitely 'on,' and it's a journey. I've been doing Chicago, and it's eight shows a week. It's such a journey – every show. You're definitely "on."
Last time you indulged?
Oh gosh. I always eat. I'm definitely a chocolate girl. I like chocolate. I've got these Pieces in my dressing room at the theater, so I definitely snack on those all day. Um, I had Taco Bell last night. cackles I got a Mexican Pizza. On my way home, I was like 'I've gotta go home from the theater, get Taco Bell and go to bed.'
Last time someone called you a nickname?
My friend Nicole called me Smashley. Everybody always calls me Smashley or Smashed. My friends have always called me that. laughs
Last Time I Laughed
This morning — at Bronx, my son. He's always a little out of it when he wakes up and it's cute. He's silly.
Last Game I Played
Oh, gosh. I play pranks all the time — and little games. My friends and I play games with each other. We just joke around.
Article continues below advertisement
Last Date Night
Our date nights are usually at home. Pete's always doing something romantic laughs. We cook for each other, chill, watch TV.
Last Time I Felt Totally Relaxed
I guess last night, when I was in bed, snuggling with my husband laughs.
Last Time I Felt Envious
My mom just had her birthday, and they went to Napa Valley, and I wished I was there.
Last Time I Saw Jessica
When she was here in New York last. It was a week-and-a-half ago. She comes to my shows. We eat dinner, hang out, catch up, laugh.
Last Helpful Advice We Gave Each Other
There's not one personal thing. We're always there for each other, so whenever one's in need, we always call. Jessica and I are really close.
Last time you felt guilty?
I don't know. What would I feel guilty for? I don't know. Eating too many Pieces candy? That doesn't really make me feel guilty though. laughs
Last time you worked out?
The show last night. cackles We're dancing our butts off. laughs It's definitely an endurance show. laughs Yeah.