NEWS
Ashlee Simpson's Man Vincent Piazza Keeps Secrets Safe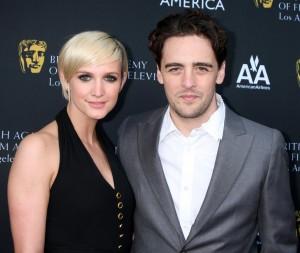 Ashlee Simpson's Boardwalk Empire beau Vincent Piazza deeply respects her, and her entire family.
The pair were spotted kissing in June, and stepped out publicly at his Boardwalk Empire premiere in NYC Sept. 14 before hitting the BAFTA Tea Party in L.A. three days later.
But when I ask him what he loves about the single mom Monday during the Conde Nast Traveler Readers' Choice Awards in NYC, he considers her privacy.
Article continues below advertisement
"Saying it publicly would only diminish it between the two of us," he tells me. "She's a wonderful girl."
When asked about what her engaged older sister Jessica would be like as a mom in the wake of growing pregnancy speculation, he's also polite.
"I don't know anything about that side of the family," he says. "Sorry. Good shot though."
Vincent could be a keeper!
While ex-hubby Pete Wentz told me he had a crush on Ashlee soon after they met in 2005, Vincent tells me his celebrity crush veers towards sports.
"I get probably, like, an athlete crush," he says. "There's too many. They're all guys, but I don't have a crush per se. It's a weird thing. I keep meeting people luckily. It's very demystifying of the whole thing. I've seen behind the curtain."
He adds, "I grew up wanting to be an athlete. That was my thing, and then meeting hockey players – I got to meet a few of the New York Islanders. When I saw them, I was, like, panting. I was like 'oh my God, oh my God, you guys are amazing. And then I'll meet actors and I'm like 'oh, hey, how ya doing?' Sometimes I'll be starstruck, but overall no."
Perhaps he'll hit the rink with her son Bronx, 2, in the near future.