NEWS
Ashley Benson on Dating Justin Bieber's "Swag Coach" Ryan Good in 'Teen Vogue'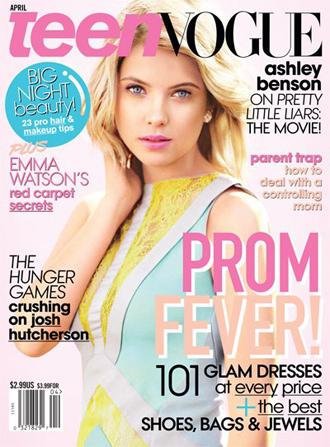 Hard to believe anyone would make fun of actress Ashley Benson, but the Pretty Little Liars star and Teen Vogue cover girl reveals, "I was picked on."
"I got made fun of," she said. "I was always left out." She may have not been in the popular crowd in middle school, but she certainly is now. Ashley is dating former Justin Bieber 'swag coach' Ryan Good and has become good friends with Justin and his GF (and her new Spring Breakers co-star) Selena Gomez.
Article continues below advertisement
"We were messing around, being absolute idiots to this Carly Rae Jepsen song, 'Call Me Maybe,'" Ashley told Teen Vogue about her now famous viral video. "Ryan was slapping his face with pancakes and Justin wanted to videotape it. I was like, whatever. When he got home, Justin calls and says, 'Can I please tweet that video?' Now it's everywhere!"
Although she's deeply in love with her famous BF Ryan, it wasn't always easy for the traveling couple. "The first couple of months, it was all Skype."
OK! NEWS: PRETTY LITTLE LIARS STAR ASHLEY BENSON TALKS NEW SEASON: 'NEW BOYS, NEW GIRLS, A LOT OF CHANGE'
"He was in Japan, Europe, everywhere. I'd have to wake up at two in the morning to talk to him. It's hard being in this industry. You're always away from your family and friends and boyfriend."
They are both living in California now (Ryan no longer works for Justin full-time), but would they move in together? Don't count on it. Ashley says, "I don't think I could live with anybody. I had roommates, and it's not for me. I like my space!"
OK! NEWS: ASHLEY BENSON SUPPORTS HER PAL JUSTIN BIEBER AT FASHION'S NIGHT OUT
Ashley also says she wants to depart from the 'popular' girl roles she's been playing. "I always get offered the pretty, popular girl roles," she told the mag. "But I want to do something dark, really challenge myself and get out of my comfort level."
Sounds like Spring Breakers could be it! Just don't expect her to follow down the 'party girl' path. "I've seen a lot of people — for example, Lindsay Lohan — who got into the wrong crowd. I always have my eye on what I want. And I don't want anything to distract me from that."