NEWS
Ashley Dupré New Sex Columnist for NY Post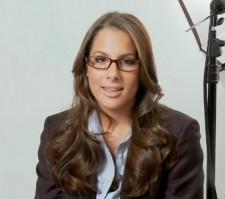 Ashley Dupré recently offered her words of wisdom to Tiger Woods' wife, and the former call girl is not stopping there. Ashley, whose affair with former New York governor Eliot Spitzer led to his resignation last year, will be writing an advice column on sex and dating for the New York Post, the paper announced on Sunday.
For the video announcement of her new job, Ashley donned business appropriate office wear and glasses. She explains her new advisory position in between posing for a photo shoot.
Article continues below advertisement
"I used to be on the front page of the New York Post. Now, I"m writing for it," she says. "Ask me anything about love, sex and relationships.
"Take it from me, someone who could have used a little advice in the past — there's nothing better than learning from someone elses experiences."
Ashley has been speaking out to the media on Tiger, warming up her platform as a new "relationship guru."
"Here you have all these girls accepting gifts, money, trips from Tiger in exchange for sex — all the while knowing he is married," she recently told the New York Post. "And now they all can't wait to tell their stories in exchange for even more money from the tabloids? And I was the hooker? At least I kept my mouth shut."