NEWS
Ashley Greene Doesn't Want 'Twilight' to Be the Only Thing She's Known For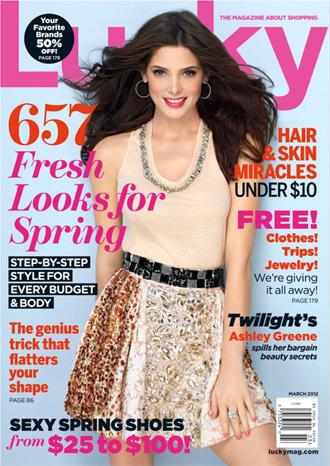 Article continues below advertisement
"Twilight has given me something to skyrocket off of," Ashley, who covers the March issue of Lucky, tells the magazine. "But now that it's ending, there's so much work to be done. And if I don't do it, then Twilight's all I'm ever going to be known for, as great as it is."
Ashley, who is currently guest starring on ABC's Pan Am, said that she went from "dying to get a gig" before landing the role of Alice to "dying to get a gig everyone wants" now that Twilight has ended.
"Now I'm in this realm with a lot of highly respected actresses, which is an amazing place to be, but also kind of terrifying," Ashley reveals to Lucky. "I'm so laser-focused on my career, because when you're dealt these cards, if you don't kind of run with it, then you're an idiot," she adds of choosing her career over a relationship. "You gotta take advantage of what you've been given."
And she sure has! Next up, she'll be seen making out with actress Olivia Wilde in Butter, which also stars Jennifer Garner, Hugh Jackman and Modern Family's Ty Burrell.
OK! NEWS: TWILIGHT STAR ASHLEY GREENE'S SEXY DKNY BILLBOARD REVEALED IN NYC
"It wasn't that awkward," Ashley says of her kiss with Olivia. "It's the same idea as having to kiss a male co-star and it's not real. Olivia is such a cool chick and very professional. So we were just messing around and cracking up in between scenes, and it ended up being really fun," she adds. "And now I'm the envy of every straight male everywhere!"