NEWS
Ashley Greene: "I Had That Fairytale Prom"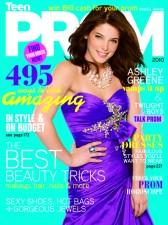 Ashley Greene has a passion for fashion similar to her on-screen persona Alice Cullen. The Twilight star has been recognized for winning red carpet looks, and now she is modeling some of the hottest prom dresses this season as the covergirl for Teen Prom 2010. Ash dishes to the mag on her own prom, her involvement with DonateMyDress.org and gives readers advice on how to create the perfect prom look!
Article continues below advertisement
Ashley is using her high-profile status for the good off others. She has become the spokesperson for DonateMyDress.org, an organization that provides underprivileged prom-goers with a large selection of donated prom dresses to choose from.
"I had my prom dress forever until I became a part of the charity and donated it," Ashley tells Teen Prom. "It's amazing to see girls' faces light up when given a dress. It's really fun because I get to interact with these girls and share the experience with them."
Ash had to work hard for her magical prom night, making her a relatable figure for young girls.
"My prom was great," Ashley says. "I bought my dress and I pretty much paid for everything because my parents really didn't have the money to pay for something like that. I worked for it, so I think it meant that much more to me because I had to save up.
"I went with my high school sweetheart and had a blast. I had that fairytale prom everyone talks about. It's something I'll remember forever."
Article continues below advertisement
She describes her prom dress as "really, really fitted full-length dress covered with bronze and gold sequins."
"It was a halter style and the neckline plunged. My mom made me take a shawl. She said, 'I know your dad, and he's not going to let you out of the house.' So we got this really pretty sheer shawl to go over it as a compromise."

Ashley's advice to girls preparing for prom is to plan ahead to avoid stress on the big day!
"When picking out your dress, make sure you're really comfortable in it because you are going to be dancing around, moving around, sitting, eating and all of that stuff," she says.
Ash also thinks it is very important to stay true to one's individual style and not to over do it.
"People have a lot of anticipation for an event like prom and end up overdoing it or wearing too much makeup. Really make sure you are comfortable because then you'll feel beautiful, instead of going overboard and asking yourself, 'Oh my gosh, what did I do?' "
Ashley resumes her role as Alice Cullen in The Twilight Saga: Eclipse, hitting theaters this summer!