NEWS
Ashley Greene Looks Sexy & Mean in Black Leather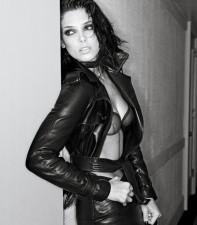 Ashley Greene sizzles in black leather in the February issue of Interview magazine. The 22-year-old starlet has been popping up all over the place, most recently in her sexy SoBe Lifewater campaign, posing in painted bikni. Ash opens up to Michael Sheen — her costar in Twilight and New Moon — about taking on her first big lead role in the thriller the The Apparition, her fashion choices, and being at the hub of the Twilight pandemonium.
Article continues below advertisement
"It's a really hard thing to wrap your head around," Ashley tells Michael of the Twilight frenzy in Interview. "I was working at a restaurant, I booked the role in Twilight, put in my two weeks' notice, got fitted, flew to Portland, filmed, and then it started getting hype. That helped me get my foot into certain doors before the movie even came out. I did four independent films during the break between Twilight and New Moon. I haven't even really had time to sit back and process it all. But when you do finally sit back and think about it, it's incredible."
Ashley's roots begin in Florida, where she had a normal childhood and realized, during her junior year of high school, that she wanted to pursue acting.
"I went to a public high school with a magnet program for law and psychology, " she says. "But right before my junior year, I decided that I wanted to leave and become an actress, so I graduated early and moved out to LA. Now that I'm here, I can't imagine living there."
Article continues below advertisement
Now, Ashley is preparing for her fist lead role in The Apparition, a thriller which tells the story of a couple who becomes haunted by a supernatural presence after a college experiment. Ash co-stars with Gossip Girl's Sebastian Stan.
"The great thing about this film is that it's really serious. It's more of a thriller. And, for once, I got cast first," she says. "They consulted me on the lead male, and we're talking back and forth about this character, so it's sort of a new stepping stone in my career."
Since Twilight catapulted Ashley into superstardom, her fashion choices have been in the limelight. She learned quickly how to become a fashionista.
"There was a moment in time where I was kind of having this mini-breakdown because it was all very new, and it was all being thrown at me really quickly, and I was going, 'Why are people reporting on this? Why do people care what I'm wearing or what I'm eating, and why are people looking down on me because I'm not wearing high heels?' That's the downside to being in the public eye. When girls come up and say, You're my role model,' it's really flattering, but it's also really scary because I'm not perfect and I'm going to make mistakes. I've just decided that I have to continue to live my life and do what I do. Hopefully, people love me because of who I am, not who I pretend to be."