NEWS
Ashley Greene Works It Out With a Smile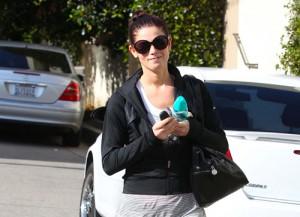 Ashley Greene is all about keeping up with her workout routine. Joe Jonas' leading lady headed to the gym Tuesday in Studio City, Calif. and by the looks of it she worked hard! Despite being sweaty, Ashley still looks gorgeous and managed to flash a smile at the cameras awaiting her. She even makes gym clothes look great as she works on her perfect shape. Joe is one lucky guy!
The Twilight beauty needs to keep in shape as she films the final installment of the Twilight Saga Breaking Dawn.
Article continues below advertisement
Ashley is also gearing up for the release of another film opposite Twilight co-star Kellan Lutz — A Warrior's Heart.
The film won't hit theaters until next year, but judging by the movie poster, it looks like it has the chemistry a good love story needs.
MORE ON:
OK Galleries & Photos
Hope Joe doesn't get to jealous. The couple has been seen out and about all over L.A. acting very love-dovey.