NEWS
Ashley Hebert & J.P. Rosenbaum Would Love 'Ben, Ames or Ryan' to be the Next 'Bachelor'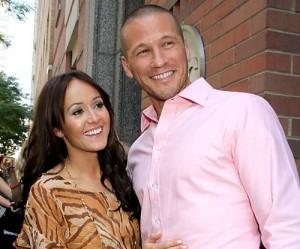 Ashley Hebert and J.P. Rosenbaum have been very busy talking about their engagement since J.P.'s romantic proposal on the season finale of The Bachelorette earlier this week made us all warm and fuzzy. In a press conference, the duo opened up about their plans to move in together, J.P.'s confidence in the final rose, Ashley's family drama, Bentley Williams' reign of terror and who they want to see as the next Bachelor!
Article continues below advertisement
J.P. opened up about his confidence in his relationship with Ashley.
"I was confident that – and I don't want to sound cocky at all, but I was confident after our Hong Kong date that I would be the last guy standing," he told reporters during ABC's press conference. "I knew that what Ashley and I had was special and that there was really no way she could have with anybody else what the two of us had together. I think I even said it in the finale that she may love both of us, but she can only be in love with one of us, and I mean, I felt that for weeks."
As for the almost four-karat, custom-made Neil Lane sparkler on Ashley's finger, she couldn't be more thrilled.
"Oh my goodness, it is absolutely gorgeous. I am looking at it right now actually. So, I think going into it, I did not really know what I like, but as soon as I saw the ring that J.P. picked out, I was blown away," she shared. "I loved that it was simple — it was absolutely beautiful. I don't think that he could have picked out a better ring for me."
Article continues below advertisement
Both J.P. and Ashley are pulling for one of the eligible men from their season of the hit franchise to be the next Bachelor!
Ashley endorsed her almost-hubby Ben Flajnik — who she had to dump on the day of her proposal after he already got down on one knee — to be The Bachelor because "girls have loved him."
"I also think Ryan Park and Ames Brown would be good," she explained. "Any of those guys would be great and we would love to watch any of them."
J.P. added: "It was such a great group of guys that you really cannot go wrong, I don't think with any of them. We would certainly watch Ben or Ames or Ryan."
And how about that beguiling Bentley who shattered Ashley's heart multiple times during filming — does J.P. have plans to beat him up?
"No, I think he made his bed, and now he can lie on it," he said. "He showed who he was and the worst part of it was watching, you know, Ashley see it for the first time and being hurt by it and all the people judging her based upon what they saw and not being able to defend Ashley, that was the hardest part, and like she said, the Bentley phase was so long ago. I have nothing to say to the guy, it's over in my book."
And has Ashley come to terms with all the drama her sister Chrystie ignited when she met J.P. for the first time?
"Of course, I wanted my family to really love him as much as I did, but I think for me it was at that point in time I had been away from my family and friends for so long, and I just wanted somebody to be there for me," she explained. "I felt alone through a lot of this and I wanted her there to make me feel like cool again, and instead it almost was like she pushed me farther away by saying that, so — but, you know what? It allowed me to really be alone and make that final decision based on what I was feeling, so maybe it was the best thing."