NEWS
Ashley Judd Apologizes for Calling Hip-Hop a "Rape Culture"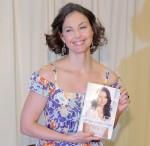 Ashley Judd has been receiving some serious criticism on Twitter for a couple paragraphs found in her new memoir, All That Is Bitter & Sweet, where she reportedly called hip-hop a "rape culture.
OK! VIDEO: WATCH ASHLEY JUDD OPEN UP ABOUT ENDURING SEXUAL CHILD ABUSE ON TODAY
"The outcry regarding my remarks, 2 paragraphs of my 400+ page book, regarding hip hop and rap, has been as astounding as it is out of context," Ashley wrote on the website Global Grind. "As reactions continue to rage on Twitter and blogs, I am addressing it where I have more than 140 characters."
Article continues below advertisement
"The general theme is to express my gratitude for a chance to learn, to be corrected where I was wrong, to make amends, and hold firm and strong on the original intention and context of the points I made, with a commitment to try to do so less clumsily and with more sensitivity in the future."
And Ashley says she understand why people would be upset.
"My equivalent genres, as an Appalachian, an oppressed and ridiculed people, would be mountain music and bluegrass," she wrote. "Those genres tell the history, struggles, grief, soul, faith, and culture of my people. In imagining how I would feel if someone made negative generalizations about that music, I am deeply remorseful that anything I may have said in All That Is Bitter & Sweet would hurt adherents of genres that represent their culture. This book is an act of love and service. Insulting people of goodwill is the antithesis of its raison d'etre."
OK! NEWS: WYNONNA ON ASHLEY JUDD'S MEMOIR — "FAMILIES WILL HEAL ONCE YOU GET REAL"
Ashley tried to explain how the paragraphs from her book were taken out of context by people on Twitter.
"Easily the most ludicrous thing about the Twitter wars has been the perpetuation of the ridiculous accusation I am blaming two musical genres for poverty, AIDS, and the whole of rape culture," she wrote. "Please, people. Seriously. I am white, yes, but in spite of some allegations to the contrary, I am not an idiot. Gender inequality and rape culture were here a long before the birth of the genres and rage everywhere."
"Hatred of girls and women, I will oppose with spiritual and non-violent principles every day," Ashley explained. "Abuse and violence in any form, at any time, in any expression, are never okay. Period. I, and other girls and women, are not afraid of you."
"You can keep on hating, but I am going to keep on loving."