NEWS
Watch Ashley Judd Open Up About Enduring Sexual Child Abuse on 'Today'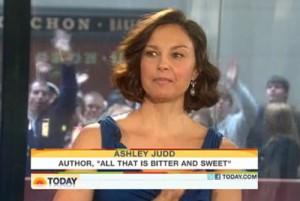 Ashley Judd stopped by the TODAY show today to promote her new memoir All That Is Bitter and Sweet and opened up about a dark time in her past. In her memoir, Ashley claims to have been sexually abused as a child by several men, one of which was an unnamed family member.
Ashley explained to Meredith Vieira that she didn't repress knowledge of her sexual abuse, but did not understand that she was being mistreated.
Article continues below advertisement
"It's not so much that I had repressed it. It's that I didn't know because that's what sexual predators do," she said. "They groom their victims and psychologically manipulate them because they are shameless when they are perpetrating."
"I am not alone or unusual, which is one of the reasons why I am super-comfortable talking about being a survivor of sexual abuse," Ashley said. "They put their shame on me and I've given those SOBs back their shame."
She also made sure to clarify that her family is very close to her, and is always there for her.
"First of all, my mother loves and adores me and my dad absolutely loves and adores me; they did then, and they do now," Ashley said. "We came from a dysfunctional family system that didn't work very well. So the kinds of things that happened to me are very typical and standard and indicative of a family system that doesn't work very well."