NEWS
Ashley Tisdale Heading To College?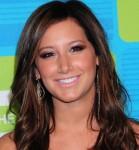 When Ashley Tisdale suits up to play a college cheerleading captain in Hellcats on the CW this fall, she'll be living the life she intended – at least on TV. (Psst! She's also days away from filming Sharpay's High School Musical spinoff.)
"Education's big in my family, and I went to regular school my whole life in Valencia," she tells me during the CW Upfront held Thursday in NYC. "At the time when I had just gotten out of high school, I took a year off of school, and I said 'dad, this is all I want to do -- acting.' I took as many acting classes as I could because he was like 'I don't want you waiting around. It's really big that you're not doing this.'"
Article continues below advertisement
She even chose a major.
"I was going to go for writing," she confesses. "But once I booked The Suite Life of Zach and Cody, with Disney, you really have no time."
She wouldn't change a thing.
"This is what I want to do – this is what I love to do with my life. I'm not the type of person to sit in class. I get to do that on the show, so that's perfect."
After three High School Musicals, she couldn't be happier to graduate to a college show. (Bonus: Her co-star is longtime pal Aly Michalka, of Aly and AJ fame!)
"I'm 25 years old now, so I've been in high school for a long time," Ashley laughs.
But she hasn't completely abandoned the Disney franchise that made her a household name.
"I'm doing a Sharpay movie in four days in Toronto, but it's not really Sharpay," Ashley says. "She's still Sharpay, but she's now the lead of the movie. You used to love to hate her, but now you have to fall in love with her. You get to see why she is the way she is, you see her in a different light. She's not in college, but she's supposed to be. She's in New York City fulfilling her dreams on Broadway."
Here's my retro pic with Ashley:
Catch Ashley in Hellcats on the CW this fall.