NEWS
Ashley Tisdale Slams Zac Efron Dating Rumors: "Don't Believe All the Pictures"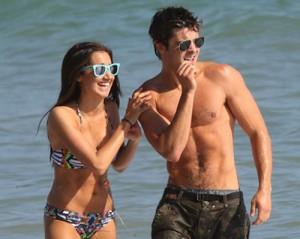 Ashley Tisdale is setting the record straight about her relationship with Zac Efron. Rumors raged over the weekend that the High School Musical co-stars were too-close-for comfort after photos of the duo being playful along the shore of Malibu surfaced. Ashley's bikini-clad fun with Zac led to speculation that she was breaking the best friend code and betraying Vanessa Hudgens.
But Ashley has taken the time to slam all the rumors on her Twitter.
Article continues below advertisement
"Don't believe all pictures. People r gonna come up with stuff to say bc it sells! I had such a great birthday party with my friends," Ashley Tweeted, adding, "Family, and BOYFRIEND Scott. I will not let stupid rumors ruin all the fun we had! Xoxo"
Zac, 23, gave Ashley a piggyback ride into the waves, where they splashed around for a bit and shared a few laughs. The 26-year-old also hopped on his shoulders for some surfside fun.