NEWS
Ashley Tisdale is a Tree-Lighting Folly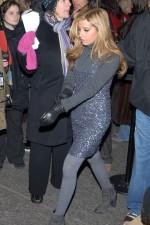 is divalicious during the Rockefeller Christmas Tree Lighting Ceremony. As chili-with-cheese is doled out backstage, the press are "locked down" in the crossing area for talent, which is in front of the big ol' tree. (We can't move from 5-9pm, and brrr - it's cold outside.)
The High School Musical beauty, who is co-hosting, runs by with her entourage, and the entire, extended Tisdale clan stakes a claim beside the press area. (We always get the best seats. ;)) Mama Tisdale cheers Ashley on throughout the night, taking photos with a digital camera. Not surprisingly, mom looks like an older, larger model of her famous daughter.
Article continues below advertisement
We're warned that Ashley may talk after the festivities, which is not a good sign. "She's a baby," an insider says.
Meanwhile, co-host Nick Lachey – who has BODYGUARDS – dashes through and interrupts Taylor Swift, who is gamely posing for photos with a diamond-encrusted guitar. She doesn't seem to mind. Taylor puts out her hand, and they exchange pleasantries. She seems thrilled to meet him. Watch out, Vanessa!
"I'm so excited to be here at the Tree Lighting ceremony because I watch it," Taylor tells me. "This is my first time seeing it live."
Ashley clomps by, blocking photos for Brooke Shields, who is angelic in a long white coat. Brooke and her Lipstick Jungle co-stars Kim Raver and Lindsay Price are posing while her little girl Rowan, 4, waits her turn for mommy's attention. At long last, Brooke is free. Ro outstretches her arms, crying, and has the look of sheer panic/ecstacy as if she found the mom she lost in the grocery store.
Article continues below advertisement
Awkward alert! While Ash is performing what would become her lip-synch disaster This Christmas, a V.I.P. has the audacity to make an off-color comment about her – with Mama Tisdale and the whole fam right beside him. Yikes!
The Tisdales are a little freaked, so , who winks my way, inherits their spot. He's with his wife Kelly and their six-year-old daughter Brianna. She is truly her mini-me - they have the exact same curly, auburn hair! "Woo-hoo, Nick Lachey (pronouncing it Nick Lach-ee)," Joey taunts repeatedly after the broadcast wraps. His lil' girl giggles.
Here's Josh Groban, who doesn't have issues about cutting down an 80-foot tree. "Every year, I say to myself 'what a beautiful tree,'" he says. "It's great that it's on display. They told me this tree was at the end of its life, and Al Roker said that the lumber was going to be used for Habitat for Humanity."
The tree certainly does look beautiful when the lights sparkle.
Alas, Ashley does not do press. (This is her only "pose.") Even though we've been "locked down" all night, somehow I understand. She's only been standing outside in the cold for the last four hours. My feet are frozen, but I'm wearing a coat.