NEWS
Ashton Kutcher: "I Hate Valentine's Day"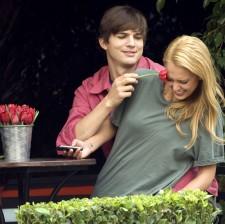 Ashton Kutcher may be playing a florist who finds love — Jessica Alba — where he least expects it in Valentine's Day, in theaters Feb. 12, but in an interview with Parade, Ashton revealed his true feelings about the romantic day. "I hate Valentine's Day," he says. "I can't stand it."
OK! HOT GALLERY: ASHTON KUTCHER IS VERY PRETTY IN PINK
Do you have trouble believing that Ashton, the happy and loving husband to Demi Moore, could actually hate the day that seems so perfectly fit for him? You're right to be skeptical!
Article continues below advertisement
OK! NEWS: PATRICK DEMPSEY: "I'VE NEVER REALLY BELIEVED IN VALENTINE'S DAY"
"I hate Valentine's Day. I can't stand it," Ashton told Parade — and then added an explanation: "I think that every day should be a day of romance. I think you should celebrate love 364 days out of the year. Then, on Valentine's Day, you should get to tell whoever you hate that you cannot stand them. There would be one day of hating, and 364 days of love."
Ashton views Valentine's Day as a bigger day to women than to men.
OK! NEWS: TAYLOR SWIFT SERENADES SWEETHEARTS ON VALENTINE'S DAY SOUNDTRACK
"We don't really have bad Valentine's Days," he explained. "The thing is, guys have pretty much zero expectations, and when you don't have any expectations, you can't really be disappointed. So I don't think I've ever had like a bad Valentine's Day."
But there was one close call...
Article continues below advertisement
OK! HOT GALLERY: JESSICA ALBA GETS WARM & FUZZY FOR VALENTINE'S DAY
"Demi and I decided that we were going to spend Valentine's Day with Bruce Willis and Emma Heming. So it was me, Demi, Bruce and Emma, which is great because we're all best friends and we all hang out," he said. "I got to be in charge of booking the restaurant. It was February 14th and we weren't in Hollywood, so I lost my little clout making reservations.
"So I'm like calling around, trying to pull any kind of juice that I can to get a table," Ashton explained. "But I hate dropping my own name, so I'm like, 'Yes, I'm calling from Mr. Kutcher's office; he would like a reservation.' And literally every place was booked and so we ended up sitting at the bar some place."
OK! HOT GALLERY: TAYLOR SWIFT & LAUTNER GET A JUMP ON VALENTINE'S DAY
He may not have put too much planning into that Valentine's Day, but sometimes acting spontaneously pans out for him.
Article continues below advertisement
"I think the most romantic thing that I've done is travel a long way to another country for like an hour to see someone I loved and then turn around and go back, because I had a commitment I couldn't cancel," Ashton shared. "So it meant literally not sleeping for two days, going through hell, just to see somebody for an hour."
OK! HOT GALLERY: ASHTON AND ALBA GET FRISKY FOR VALENTINE'S DAY
So, what's Ashton's secret to a lasting relationship?
"I think one thing sort of defines it, which is that it's not how much you love someone when you love them, but it's how much you love them when you hate them," he said. "It's when you're in that moment where you cannot stand what the person you're with is doing, but you still love them. That's when you need to show it -- not just say it, but show it. You need to take some action."
"The biggest mistake that most of the women that I know make in relationships is listening to what the guys say," he warned. "Guys talk the talk, but 90 percent of guys don't walk the walk. When things get tough it's not what you say, it's about what you do."