NEWS
Ashton Kutcher Posts Video Addressing "Honesty in Publishing" Amid Affair Rumors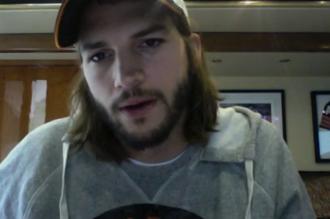 This is Ashton Kutcher being serious. The Two and a Half Men star has filmed himself giving lecture on "honesty and publishing" while the rumors of his alleged affair on Demi Moore continue to swirl.
Ashton posted a new video on his chime.in channel with the description, "A brief commentary on the status of integrity of media and literature. Honesty in publishing has become the sole responsibility of the creator. Or should I say "soul"..."
Article continues below advertisement
In the video, the actor says, "I just wanted to open up a little dialogue on the state of honesty. The state of truth. The status of truth as it pertains to literature and media."
Ashton then talks about a text he was reading "the other night" and eventually (if you make it that far watching) explains why he thought it was important to talk about in a video post to his fans.
The Two and a Half Men actor hasn't addressed the affair rumors surrounding his marriage to Demi, but it sounds like he's trying to defend himself.
"We are our own editors, we are our own publishers and we are our own printers. Therefore, people can bastardize the truth in any way, shape or form that they want.... A lie can travel halfway around the world before the truth can leave someone's lips."
What do you think of Ashton's message?
Watch Ashton's video over at his chime.in channel, HERE!