NEWS
Ashton Kutcher Says New 'Punk'D' Host Justin Bieber is "Stealing My Swagger!"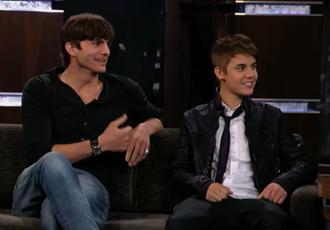 Now that Punk'D is making a comeback, the mastermind behind the show, Ashton Kutcher, is getting a little worried that one of the new hosts, Justin Bieber, is going to steal his thunder. In fact, Ashton thinks he already has!
OK! VIDEO: KHLOE KARDADHIAN GETS PUNK'D BY MILEY CYRUS AND KELLY OSBOURNE!
"He's trying to steal my swagger!" Ashton told Jimmy Kimmel on his show last night, where the Two and a Half Men star appeared with Bieber.
Article continues below advertisement
Ashton went on to say that Justin tried to buy his house in Los Angeles before he signed the final contract and that the "pop sensation" even bought a Fisker Karma, the same car he happens to drive!
"Scooter bought that for me!" Justin reassured Ashton, explaining that it wasn't his plan to overshadow him. (Of course, Ashton was just joking around).
Jimmy suggested that the two guys move in together, but Ashton shot down that idea right away, saying, "He's not ready to live with me!"
MORE ON:
Jimmy Kimmel Live
"I'm 18 man, I'm almost ready," Bieber replied. "You can like train me."
"21 is the threshhold," Ashton joked.
As for what's to come on Punk'D, Ashton says he really believes in the show and thinks it's going to be a huge success.
OK! NEWS: JUSTIN BEIBER PUNKS TAYLOR SWIFT INTO THINKING SHE RUINED A WEDDING!
"We had to figure out a way to relaunch the show to keep it alive," he explained, adding that people started to recognize his tricks after a while. "That's why I felt that I couldn't host anymore, I was losing friends at a rapid pace, like nobody wanted to hang out! We sort of modeled this season after SNL. Every week there's a new host."
So Justin won't be the only celebrity to pull pranks on his friends — Miley Cyrus, Bam Margera, Dax Sheperd and more will also host episodes of the show.
"For this Punk'd thing that we're doing, Ashton is the master at it," Bieber gushed. "So I'm looking up to him for that."