NEWS
Ashton Kutcher Sends Tweets Not Flowers to Demi Moore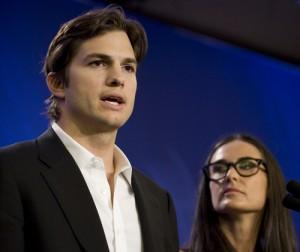 When Ashton Kutcher wants to compliment his wife Demi Moore, he Tweets at her rather than gives her flowers and here's why: "Sometimes people like to be adored in public."
OK! GALLERY: DEMI & ASHTON STAND UNITED AGAINST CHILD SEX SLAVERY
"A lot of times my wife and I sit across from each other and tweet, it's a little bizarre," Ashton said at a technology meeting in Tel Aviv held by Bezeq, Israel's largest telecoms group, Reuters Life reports.
Article continues below advertisement
Ashton has over five million followers on Twitter, so his Twitter account has been his main source for PDA.
"It's the same reason why you send roses to a woman at work," Ashton explained. "Sometimes people like to be adored in public."
And Demi was sitting right across from him in the audience!
OK! NEWS: ASHTON KUTCHER LAUNCHES TWITTER ATTACK OVER NEW CHEATING REPORTS
The husband and wife have teamed up and launched a social media campaign to end online slave trafficking, "Real Men Don't Buy Girls," by mainly using their Twitter accounts.
"This content can be stopped," Ashton said. "We can find this content, find these people, we can really eradicate human trafficking and make the Internet slave-free."
"If you look at the top 100 media companies, 95 percent are owned and operated by white men over the age of 40 ... Twitter is a more true perspective of the human graph than any media company," he explained. "It's a power shift in the media and we are all participating in it."
OK! GALLERY: SPOUSES SHOW SUPPORT FOR THEIR STAR KILLERS
And the negative criticism he receives on Twitter can be a useful tool too!
"Until you shine a light really bright you may not see the garbage in your life," Ashton said. "Sometimes, when there is criticism it's shining a light on you and you need to use that to eliminate the garbage in your life."