NEWS
Ashton Kutcher's Pal Eric Balfour Doesn't Know About a Split from Demi Moore; Says Ashton is "Having a Ton of Fun" on 'Two and a Half Men'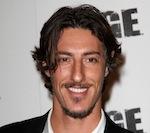 Amidst rumors of a split between Demi Moore and Ashton Kutcher, pal Eric Balfour explained to OK! that he doesn't know anything about a break up yet and dished on the actor's new Two and a Half Men gig while out at the RAGE launch party on Friday night.
"I mean unless he tells me that, then I don't know," the Haven star told OK! of not hearing anything about a split from Ashton while out at Chinatown's Historical Central Plaza for a Black Keys performance alongside Charlize Theron, Kat Von D, Chris Evans, Rumer Willis and Kip Purdue.
Article continues below advertisement
OK! NEWS: ASHTON KUTCHER HEADS TO KABBALAH CENTER AMIDST DEMI MOORE SPLIT REPORTS
And as for Ashton's mini vacation to San Diego this past month without Demi – Eric, who was a part of the getaway, says it was all in good fun.
"I wanted to go surfing. Other guys wanted to golf. I have been out of town for four and a half months overseas doing my show so I was coming home, hanging out," the 34-year-old told reporters.
OK! NEWS: ASHTON KUTCHER UNFOLLOWED DEMI MOORE ON TWITTER
Regardless of the reports that there is trouble in their marriage, Eric says that Ashton is happy and loving his time on CBS's Two and Half Men.
"I know he's having a ton of fun," Eric explained to OK! of Ashton taking over Charlie Sheen's spot on the show, "I think its awesome for him. Ashton is ten times funnier than I am, but I am not that funny so he is actually funny."