NEWS
Aubrey Blows Off Role in 90210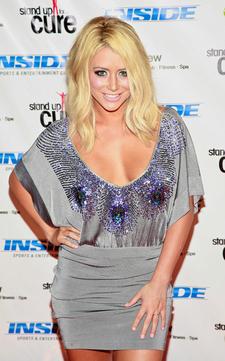 O'boy!
Aubrey O'Day has revealed that she was asked to play that girl in the notorious oral sex scene in the new 90210 – but she didn't want to take the part!
Audiences who remember the family-friendly 90s classic were scandalized when they tuned into the first epidode of the new season, only to see a young lady's head pop up from the lap of Ethan, played by Dustin Milligan.
It turns out that Danity Kane singer Aubrey was asked to play that very young lady, but had to pass the job up to star as Amber Von Tussle in the musical Hairspray.
Article continues below advertisement
"I was up to play a part in that show but I ended up doing Broadway," said Aubrey at the Stand Up To Cancer event at Madison Square Garden Wednesday.
"I can't remember her name, but I can tell you what the script was that I read. It was the girl who was giving head to the boy in the car and she's the lead in the musical."
Aubrey O'Day playing an aspiring actress who gets caught up in a sex scandal? Some of these casting directors really have a wild imagination!