NEWS
Audrina Fries Her Rice in Pork Fat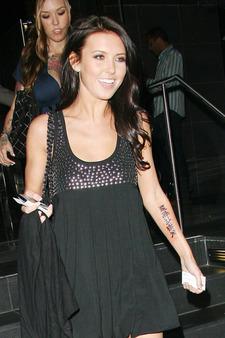 In what many believe — or at least hope — to be a practical joke for Ashton Kutcher's new prank show Pop Fiction, Hills star Audrina Patridge walked into an L.A. tattoo parlor yesterday and walked out with a rather cryptic bit of Chinese writing on her left forearm. And our translator tells us she's either trying to pull one over on everyone — or she's the dumbest person on the planet.
Loosely translated from Chinese to English, Audrina's new body ink reads, "The rice is fried in pork fat."
Article continues below advertisement
(buzz)
Now perhaps Audrina, who recently weathered the scandal of topless photos of herself being leaked on the Internet, is a REALLY big fan of her local Chinese restaurant. Anything's possible in this world. But despite her swearing up and down to the photographers outside the tattoo studio that it's the real deal, OK! is guessing that this ink will be fading even sooner than the careers of Audrina and her Hills castmates.