NEWS
Audrina on Her New Show: "Less Pretty, More Raw"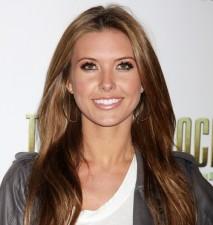 Now that the fifth season of The Hills is over, Audrina Patridge is getting excited to debut her own new show with Mark Burnett productions. At the Live MTV Finale After Show of The Hills on Tuesday night, Miss Patridge revealed to OK! that with this new venture, "the entire tone is going to be different."
"I'm very excited. Basically it's going to be me outside of The Hills bubble," Audrina, who expects her new show to start airing next summer, told OK!. "All the photos that my fans see and what they always wonder, like that's what the cameras are going to come with me and see."
Article continues below advertisement
We can expect to see a side of Audrina's life that we never got to see while she was on The Hills.
"My family is going to be in it and just going to Hollywood events, behind the scenes and just all the chaos that comes with it that everyone doesn't know," Audrina explained of what we can expect. "My fans are going to go along with me on that journey."
"I feel like The Hills is more of a soap documentary and I feel like my show is going to be more like real," she told OK!. "Less pretty, more raw... They are going to follow me with cameras. It's not going to be set-up. There isn't going to be any lighting."
Also, the new show aims to be more spontaneous than her previous on-camera gigs. "From time to time it's going to be like, 'OMG! Something just came up! Let's hop on a plane and go here!' She explained. "Stuff like that. It's going to be different."
But don't count other Hills stars out of Audrina's show because there could be some crossover.
"There might be," Audrina told OK!. "Possibly."
Problem is, Audrina said she really is only talking to Lo Bosworth and Stephanie Pratt still.
"Ya know, I talk to Lo every now and then," Audrina shared. "She's really the only one I keep in touch with. Lo and Stephanie from time to time and that's it. I've actually seen everyone here tonight that I haven't seen in a long time."
So are the stars of The Hills supportive of Audrina's new show?
"No," she laughed. "I mean, they really don't say anything about it so it's fine."