NEWS
Audrina Patridge Done With 'Audrina'? "I Wanted to Take Some Time Off From Reality"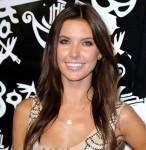 It sounds like Audrina Patridge's VH1 reality series, Audrina, is coming to an end.
In a new interview, the former Hills star said she doesn't think she'll be filming another season of Audrina.
"No, I don't think we are," she said (via The Daily). "We finished in April and I kind of decided I wanted to take some time off from reality."
What does Audrina want to do instead?
Article continues below advertisement
"I want to do something more like acting or hosting," she revealed.
And while Audrina was talking about the rumors about her show being done, she also adressed the rumors regarding her and plastic surgery.
"They always ask me about that because of Heidi Montag and there's all these rumors and they all say I've had, like, six procedures, and I'm, like, 'Where do you get that?' Look at the pictures. I fluctuate in weight a lot," she said.
"And as far as my face, I'd never had anything done," Audrina added.
Are you sad to see Audrina's reality show come to an end?