NEWS
Audrina Patridge: "I'm Constantly Eating"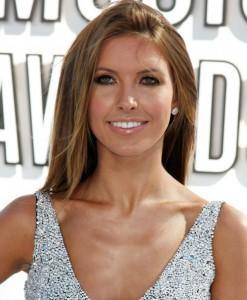 To prepare for Dancing With The Stars, which begins tonight, Audrina Patridge altered her diet, social life and fashion sensibility.
"I've been eating every two hours all day," the reality star star, 25, tells me. "I eat more carbs now because I'm working out a lot more than I ever have been. I'm definitely eating lots of protein shakes, vegetables. I bring fruit to my rehearsal every day – bananas, apples and berries. I'm constantly eating."
Article continues below advertisement
Her nights on the town have also taken a hit.
"I've been drinking lots of water all day, every day," she tells me. "I'll go out to dinner and have some wine, but that's it. I cut out all drinking, all going out. I'm focused on dancing, and that's it."
Because she rehearses every day with hoofer Tony Dovolani, she's constantly in dance mode.
"I'm constantly looking through magazines for different outfits to get inspiration to tell my partner 'maybe we should do an outfit like this.'"