NEWS
Audrina Patridge Obsessed With Mexican Food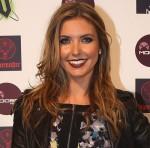 Audrina Patridge works hard for her rockin' bod, but that doesn't mean she starves.
"Mexican food is one of my all-time favorite foods," the reality star, 26, tells me at the Dos Caminos opening inside Harrah's Atlantic City. "I'm obsessed. I probably eat it three days a week at least. laughs"
Not only does she love to eat Mexican dishes, but she's also a whiz whipping them up in the kitchen.
"I actually love making guacamole and making salsa. I love the quesadillas, I love making taquitos, I love tacos. I love my Mexican food. You can eat a little bit and it fills you up, where it's not like you eat a whole bunch and you're still hungry. But you do have to be careful with eating Mexican food, because it does put the calories on. laughs"
Article continues below advertisement
What's her secret to being a Mexican food fan as well as a Skinny Minnie?
"You've got to balance. You have to work out. You have to be active every day. If you're going to eat what you want to eat, and eat Mexican food all the time, you have to be active. Otherwise, it's going to add up, and you're going to hate it."
But that's not the only way she maintains her small figure.
"I'm very healthy," she says. "I cut out the sweets. I cut out the soda. I'm not a big fan of bread. I love vegetables, I love fruit. I make a fruit juice with my power juicer every morning for breakfast, along with an egg-white omelet with vegetables and sausage. And I love banana pancakes. I do indulge every other week – whatever – with pizza, In-N-Out or burgers, whatever. It's all about moderation. Try and eat healthy. Vegetables and fish – lots of fish – and chicken."
Still, she doesn't completely abandon dessert. Audrina picks up Sour Patch Kids, Sour Skittles and Warheads when she heads for the candy aisle.
"I don't like the really sweet, rich foods. I like the very sour, salty foods."
She carries a Power Bar with her so that she doesn't succumb to unhealthy snacks when she's out and about.
"I need to keep my energy up, because if I don't eat every few hours or snack, I get really tired, so I constantly have to nibble."
Audrina makes sure she keeps her food cravings in check.
"I don't give up any food," she laughs. "You just eat anything you want, but in moderation. Don't overindulge."
Pick up the OK! on newsstands now for Audrina's Diet Confessions. The cover line is "Angie Can't Take It: Brad's Mystery Woman!"