NEWS
'Avatar' Remains Number One, Creeping Up on 'Titanic' Record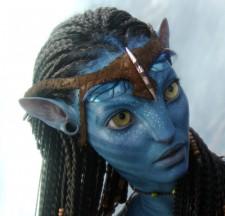 After an already record breaking run in box offices, Avatar remains number one in its fourth consecutive week, creeping up on Titanic's massive gross according to new reports.
This weekend, Avatar raked in an estimated $48.5 million making it 2009's highest grossing film, E! Online reports.
But director James Cameron may end up outdoing himself as Avatar stands at the number two spot for movie of all time domestically next to his other infamous creation, Titanic according to E! Online.
Article continues below advertisement
E! Online alsoreports that the sci-flick has a big chance of taking over Titanic's reigning position with $1.3 billion grossed worldwide already, although it has a ways to go to conquer James' first success.
So far, Avatar has made $429 million domestically, only $171 million away from Titanic's record at close to $600 million, E! Online reports.