NEWS
Avril Lavigne Praises Kylie Jenner's "Edge"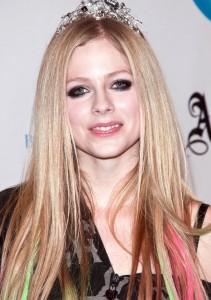 Avril Lavigne's Abbey Dawn show got a little love from boyfriend Brody Jenner and his famous family during her New York Fashion Week show held Monday at Style 360 at the Metropolitan Pavillion South.
Not only did Kylie Jenner walk the catwalk in three outfits, but seated directly across from me in the front row was Kendall Jenner, Kourtney Kardashian, Kim Kardashian, Kris Humprhies and Avril's beau Brody, sipping a cocktail!
Article continues below advertisement
(I must say, the Kardashian crew looks so elegant and put-together, and Kim's ring completely stuns. What a piece of ice!)
As Kylie walked the catwalk, her sisters were in her court. Kim gave her devil horns and stuck out her tongue while Kourtney filmed video. All the while, the littlest sister was loving it!
Post-show (and amazing gift bag!), Avril bopped by to give some love to her 14-year-old muse.
"She did a really good job. I think she's adorable. She's the youngest of all the sisters, and I love her edge. laughs"
Turns out, Avril, 26, is in high demand.
"It's insane," she says. "I played a show last night in Milan, I flew here to NYC, I'm here for 4-6 hours, and then I leave and go to Amsterdam and put on a concert when I land. I really wanted to be here. It was really important to me, so it was absolutely worth it. You've gotta love what you do, right? I mean, I do music, I have the Avril Lavigne Foundation that I'm working on right now, fragrances. I'm on tour right now. You've gotta love what you do, really."
Being in NYC for Fashion Week meant everything.
"It's really exciting," Avril says. "It's a massive honor to be in NYC for Fashion Week and having a show. It's cool. I tried to make it a rock show as much as possible, and throw my uptempo songs in and make it casual and comfortable, and not uptight. I would never want a fashion show of mine to be uptight."