NEWS
B2K Singer Raz B Slams Chris Brown For Rihanna Attack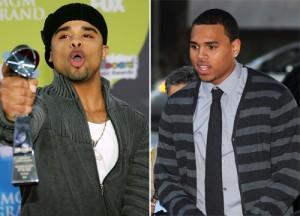 Chris Brown may be trying hard to move past his tumultuous relationship with Rihanna — who he infamously attacked in February 2009 — however, some members of the music industry are not willing to forgive him. Former B2K singer Raz B (De'Mario Thornton) attacked the singer on Twitter in a expletive-laden rant, provoking some harsh responses from Chris.
The nasty exchange started when Raz Tweeted, "I'm just sittin here Thinking how can n—-s like @ebenet & @ChrisBrown disrespect women as Intelligent as @HalleBerry11 and @Rihanna."
Article continues below advertisement
Chris wasted no time responding to Raz's remarks, Tweeting: "@razb2k, n—- you want attention! Grow up n—-!!! D— in da booty a– lil boy."
The Twitter battle raged on with Chris jabbing at Raz, making reference to accusations that he was molested by his ex-manager and one of his former group mates.
Raz retorted by accusing Chris of being on the "down-low" a reference to being a in the closet.
"Do you hit your boyfriend @andre_merritt like you do your women?" Raz replied.
As of now, the Twitter rant has cooled, with the following messages from both artists:
But Raz isn't backing down easy. He enlisted some help from his brother who posted a very angry video (via TMZ) addressing Chris: "If I see you in L.A. my dude, I'm gonna put my mother fu**ing pistol in your mouth."
Article continues below advertisement
Raz's brother, Ricky Romance (also a singer) continued, "Step your game up homeboy ... when I see you my n**ga, I will smack you in the mouth, beat you, drag you down the street and treat you like a little b**ch my n**ga. This ain't no mother f**kinggame homeboy. You ain't welcome in L.A. and if I catch you alone, watch what I'ma do to you."
OK! NEWS: RIHANNA & MATT KEMP CALL IT QUITS
Chris's response: "Ill be in LA REAL SOON!!!!!!
Do you think it's smart of Chris to lash out while he is still recovering from issues with domestic violence? Share your thoughts in the comments.