NEWS
Baby News Makes 20 For Michelle & Jim Bob Duggar!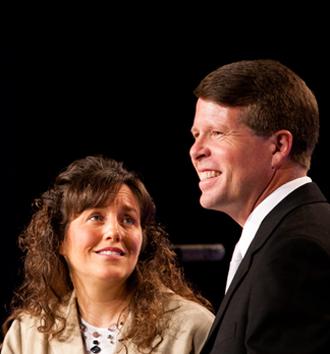 Looks like the Duggars will need to change the name of their show from 19 Kids and Counting to 20! This morning on Today, Michelle Duggar and her husband Jim Bob revealed a bombshell: They're expecting another child.
Michelle said, "We are so excited!" According to RadarOnline, the 45 year-old mom is already three and a half months pregnant and sounded surprised when she made the announcement. "I was not thinking that God would give us another one, and we are just so grateful." Aside from dill pickles cravings, Michelle hasn't had any health issues associated with the pregnancy and she continues to work out five to six days a week. "I'm really in better shape than I've been in 20 years." So, how exactly did their 19 kids ranging from 23 months to 23 years take the news? Thy thought their dad was joking when he lined up the family on the staircase for a photo and then quipped, "Smile — Mom's going to have another baby!" Michelle recalled, "Their mouths dropped. They all looked at me to see if he was joking."
Article continues below advertisement