NEWS
'Bachelor' Countdown: Who Do You Think Will Win?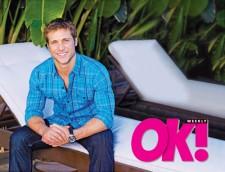 It's midway through ABC's The Bachelor: On the Wings of Love, and Jake Pavelka, the sexy jet pilot, has already turned down more than half the women competing to win his heart. Reflecting on the season so far, Jake tells OK! that he feels more at ease flying planes than navigating a room full of beautiful women.
"It's a little overwhelming," says Jake, 21, who's learned a lot about himself during the show. Here are the lovely ladies to keep an eye on as Jake gets closer to finding his match.
Article continues below advertisement
The Virgin: Corrie Adamson: Jake respected Corrie, 23, for coming clean about her virginity. "It says a lot about someone's character," he notes. "It was interesting. It told me that she had a lot of values."
The Fast Mover: Tenley Molzahn: Not put off by Tenley's, 25, forwardness after she kissed him on episode one, Jake admits, "Tenley made a big impact. But I wasn't going to allow myself love at first site."
The Girl Next Door: Ali Fedotowsky: "She's always smiling, she's positive, she's giddy, and it's contagious," gushes Jake about Ali, 25. Sounds like she'd be a great Bachelorette if she doesn't win! But Jake teases, "She may not be on the market."