NEWS
Bachelor Girls Spill About Rozlyn's Off-Air Fling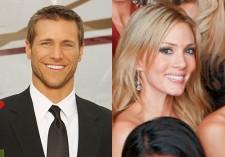 When it was discovered that The Bachelor contestant Rozlyn Papa was having an "inappropriate relationship" with one of the producers, show bosses swore the other contestants to secrecy.
Well, they're certainly spilling all that pent-up gossip now!
At the taping of "The Bachelor: The Women Tell All", which airs tonight, one contest, Jessie Sulidis, admitted that she'd caught Rozlyn straddling Ryan Callahan while they made out.
Article continues below advertisement
OK! EXCLUSIVE: JAKE'S HEARTBREAK OVER VIENNA'S PAST
And Gia Allenmand said that Rozlyn — who got the boot after the fling came to light — "rarely spent the night in her own bed".
Gia added that when she would ask Rozlyn where she'd been, she would just make up excuses that she "fell asleep on the couch" — or even in the kitchen. (Yeah right, Rozlyn!)
Jessie, meanwhile, revealed for the very first time that she caught Rozlyn and Ryan in the act.
Jessie wasn't feeling very well one day, she told host Chris Harrison in front of the live studio audience, and after she came out of a bathroom, Rozlyn was sitting on top of him on the flight of stairs as they were making out. (Oopsie!)
CLICK HERE FOR ALL THE BACHELOR NEWS!
Jessie confessed she told the other ABC producers (that is, the ones Rozlyn was not sleeping with...) that she "felt uncomfortable" with their situation — and that same night Chris told Rozlyn to pack her bags because she was going home.
In one fell swoop, she'd lost her chance at love with Jake Pavelka, whose sexuality is currently being questioned by a tabloid.
"Maybe he was imagining me with a beard and like, shoulder pads, I don't know," she says followed by laughter.