NEWS
'Bachelor' Hunk Jake Pavelka is "Ecstatic" With His Choice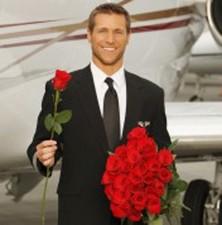 After Ali Fedotowsky walked out on Jake Pavelka, leaving The Bachelor: On the Wings of Love for her job, fans feared that Jake had lost his chance at love, but the hottie declares that he is delighted with his final choice.
"I am happy, I am, ecstatic with the decision that I have made because I have to live with it," he tells Entertainment Tonight. But Jake isn't saying whether he picked one of the finalists, or walked away a free man.
Article continues below advertisement
And tonight The Bachelor: On the Wings of Love — Women Tell All airs at 8 p.m. on ABC, where Jake faces the entire batch of bachelorettes.
But the 32-year-old pilot wasn't scared about seeing all the women he's jilted. "I always get nervous just a couple of seconds before I go on camera," he admits, "but not about what the girls' reactions on getting to see me are, not nervous at all."
Article continues below advertisement
This season of The Bachelor has been packed with drama. First Rozlyn Papa was sent home by the show's producer, then Jake kicked Michelle Kujawa to the curb when she threatened to leave, and the final blow was when Ali had to chose between her job and love, and she picked her job.
What Ali didn't realize is that she was Jake's favorite and a strong contender for a final rose.
OK! NEWS: FORMER BACHELOR JASON MESNICK WILL MARRY MOLLY IN TV SPECIAL
"That night, when she left, she was ahead of all of the other women," he admits. "I can't tell you if she was going to be 'The One,' but, that night, if somebody had said, 'Gun's to your head. Pick a girl,' it would've been her."
So why, then, did he say, "No" when Ali realized she had made a mistake and phoned him to ask if she could come back?
"The transitions from hometowns to exotics… that's where you really start to get intimate with the women, and I'd already done that with all three of the women, so I was forced to close that book and move forward with Gia Allemand, Vienna Girardi, and Tenley Molzahn, and not think about Ali."
Next week when the finale of The Bachelor airs, America will find out whether Jake picks Vienna or Tenley, or whether he walks away a single man.