NEWS
Bachelor Matt Finds Love Again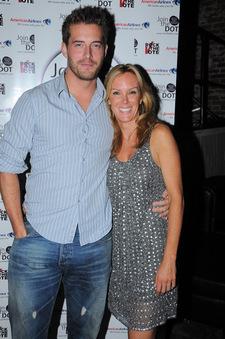 Far be it from us to say we weren't the least bit shocked when the star of The Bachelor: London Calling, Matt Grant, and his "fiance" Shayne Lamas didn't make it to the big white alter. But now, it seems Matt has found love again, this time with a fellow Brit.
The 28-year-old has fallen in love with his public relations rep, British-born Sarah Robarts. A mother of two and 11 years older, Robarts, 39, first met Grant following his appearance on The Bachelor. At the time, Grant says it was all business, but even so he says, "I couldn't help but to think, 'Man she's hot.'"
Article continues below advertisement
"It's turned into the best relationship I have ever been in," Grant, whom OK! caught up with at the Athletes for Obama fundraiser, says now of their relationship. "I'm completely in love. She's extremely beautiful inside and out. She's one in a million."
Grant, whose rocky relationship with Lamas, 22, ended officially in July, says he and Robarts went out for drinks and it turned into a date. "We connected on every level," he says. "If she had been on The Bachelor, there would not have been a competition. It would've been the shortest season ever."
As far as the new couple's age difference, Matt says it's not a problem.
"Age is not an issue," he says. "Sarah is very much on my level. The only thing is I've had to bring my game up since The Bachelor. She's way too intelligent for some of the talk I used on the show."
But if you think these two are headed for the altar, think again. Matt says they have no plans to rush their relationship. "I'm trying to play this cool, but I feel blessed," he says. "We have a wonderful relationship and I hope we continue forever."
He adds, "It's just so ironic that I came all the way over from England to find love on The Bachelor in America. And in the end, I fall in love with a Brit."