NEWS
'Bachelor Pad's Elizabeth Kitt: Why I Regret My Boob Job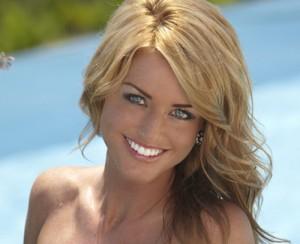 On last night's emotionally-conflicting Bachelor Pad competition, the cast had to compete by filling out a questionnaire asking for their opinions of each other, and Elizabeth Kitt walked away most devastated as she was voted having "The Worst Boob Job."
"A lot of the girls in the house who don't have breast implants complain, because their boobs are small," Elizabeth, 30 tells OK!. "What I would give to be able to go back, and not have gotten mine."
Article continues below advertisement
OK! NEWS: INSIDE THE BACHELOR PAD'S TENLEY MOLZAHN & KIPTYN LOCKE'S ROMANCE
The sales representative — who has been hooking-up on the show with Jesse Kovacs, 28 — explains that she simply "wanted boobs," because she "had nothing, so she got them." But they changed her life, and not exactly for the better.
"I feel like guys treat as if I am stupid, or not as smart," Elizabeth, 30, tells OK!. "They treat me like I'm a more sexual person than I am. I get disrespected a lot more."
OK! NEWS: MELISSA RYCROFT-STRICKLAND EXPECTING HER FIRST CHILD
When host Melissa Rycroft-Strickland asked the remaining contestants (Jesse B. and Kovacs) who they thought the house voted for having the worst breast augmentation, Elizabeth appeared nervous to see if her name would be written down.
"I do care about the money, and I want to win," Kovacs said after losing the competition (He wrote down Krisily instead of Elizabeth). "But I understand there are other things in life like relationships that are more important, and they last longer than a quarter of a million dollars."
Article continues below advertisement
After the emotionally draining competition, Elizabeth — along with the distraught Natalie, who was voted "Always A Bridesmaid, Never A Bride" — locked herself in a closet to bawl in privacy, and Kovacs came to be her shoulder to cry on.
"That's the one thing about me that the other girls have — I was jealous of the ones without the boobs," she continues. "I think you know — usually, it's the other way around."