NEWS
'Bachelor' Recap: Brad Womack Sends Ashley Hebert Packing, Final Two Revealed!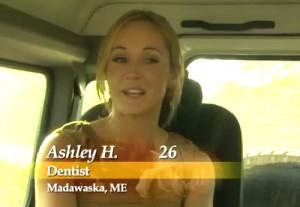 And then there were two. Season frontrunner Ashley Hebert left South Africa broken-hearted last night, as Brad Womack chose Emily Maynard and Chantal O'Brien to be his final two ladies. "Brad and I had this crazy connection from the beginning, but you know sometimes that kind of spark isn't enough," Ashley said during her final farewell.
"Sometimes there needs to be more," she added. "Brad and I got lost in the journey and in the situation. I think outside of this we probably would have had something really great, and if he's willing to watch me walk away then I just have to respect his decision. I know he is a step closer to being happy, so hopefully I'm a step closer to being happy too."
Article continues below advertisement
OK! NEWS: BACHELOR RECAP — THE FINAL FOUR, SHAWNTEL NEWTON SENT BACK TO FUNERAL HOME
Brad and Emily's problems surfaced during their one-on-one date when he began to question Ashley's plan for the future, feeling she failed to factor a plan that balanced her career aspirations with his life in Austin, Texas.
Moving on to the other women, Brad told Emily he was "falling in love" with her during their romantic date with the elephants, something he has not told any other woman on the show.
Emily battled with her morals, but eventually agreed to accepting the overnight date proposition, so she and Brad could use it as a chance to talk.
"I have a daughter, and I want to set a good example," Emily, 24, said.
Chantal went on a safari with Brad, and she seems to be the most genuine of the girls, falling head over heals for the Bachelor.
Article continues below advertisement
The duo slept outside in a tree hut under the stars. Chantal was very open about her overnight with Brad, making reference to the Las Vegas adage and giving it her own spin —"What Happens in South Africa, Stays in Africa."
Catch clips from this week below!
This week's deleted Scene "Elephant Love:" During their one-on-one date, Emily and Brad witness two elephants getting frisky.
Delete Scene: Video Message
Watch Ashley's teary-eyed final farewell below.