NEWS
'Bachelor' Recap: Madison Garton Picks Up Her Fake Fangs & Leaves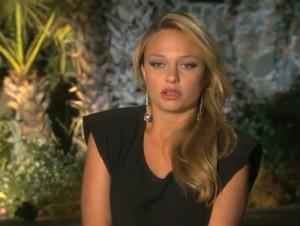 On last night's episode of The Bachelor, Brad Womack inched closer to finding love, but not without some bumps along the way. Brad found himself the subject of rejection with contestant Madison Garton — known for wearing fake fangs — who felt uncomfortable staying on the hit ABC reality show, not knowing her true feelings for the 38-year-old Texan hunk. So why did the 25-year-old model from Vale, Colo. decided to pack her bags in the middle of the final rose ceremony? Because of another woman on the show.
Article continues below advertisement
But don't worry, it wasn't a cat fight that sparked Madison's decision to leave, but a more inspired reason.
Fellow contestant Emily Maynard shared her tragic past with Brad during their one-on-one date.
Emily, 24, shared an intimate evening with Brad at the Cambria Estate Winery in Santa Clarita, Calif., where she revealed her painful past including the the details of her fiancé's tragic plane crash and the birth of her daughter, now 5.
"Hearing Emily's story, it became very real," Madison told Brad at the cocktail party right befor the rose ceremony on Monday's show. "It seems like a lot of girls here already have their heart on the line for you and anything I do now would be taking away from them. It could have been very different if I showed my cards and been the real me from the beginning. There's every chance that I'll wake up tomorrow and wonder what the heck I just did."
Article continues below advertisement
Brad seemed very surprised, but he stood behind her decision to leave.
"Take it from me, if you continue to let guards prevent you from falling for someone or just being yourself, you're not going to get anywhere," he said. "Madison can't let go of my relationship with Emily, as opposed to just focusing on our relationship. With her leaving, I think I'm missing out on a hell of a girl."
Leaving with Madison last night were Sarah P. and Kimberly.
Catch the final words of the ladies who said goodbye to Brad last night in the clip below!