NEWS
'Bachelorette' Ashley Hebert Almost Left Show After Bentley Williams' Heartbreak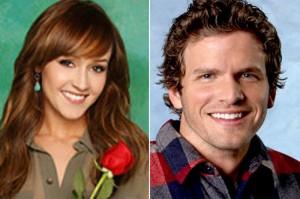 In previews for episode three of The Bachelorette, it looks like Bentley Williams accomplishes what he set out to do — break Ashley Hebert's heart. Bentley's highly anticipated dramatic exit almost ruins Ashley's chances of finding true love, as she is so destroyed after he leaves, she almost quits the show, according to host Chris Harrison.
"Ashley's devastated once Bentley leaves and the way it all plays out, she's ruined," Chris told E! Online in a video interview. "It really did almost shut down production. She was done!"
Article continues below advertisement
He continued: "She was like, 'This isn't going to work for me. I'm out of here.' If this had been three weeks later on the show, we probably would have been done. I guess it would have been a four-to-five-week show. It was very real that this was going to go down bad."
OK! POLL: WHO'S THE BEST GUY FOR ASHLEY HEBERT ON THE BACHELORETTE?
Chris also explained that he tried to warn Ashley about Bentley — this season's clear "villain" — but she seemed to already have made her mind up about the 28-year-old single dad from Salt Lake City, Utah.
"It sucks — watching this happen as a friend, as a host," Chris shared. "If you have ever known anybody in your life that's been with somebody you don't approve of, you know there's nothing you do. The more you push, the more they're going to go in the opposite direction. You almost have to be like I've said my peace, I'm going to be there to pick up the pieces when that train hits you. You see it coming down the tracks and there's nothing you can do."
Article continues below advertisement
"That's the way it was with Ashley and Bentley," he added. "I knew this guy was bad news. I knew he was going to hurt her and there was nothing I could do."
Chris also commented on anyone out there who thinks ABC planted beguiling Bentley to cause drama.
"That's where people are like, 'He's a plant and meant for this to happen,'" Chris said of those who cannot believe a real contestant would act like that. "This wasn't one of those 'good TV' moments. This really screwed up our show and almost ended our show!"
So, how does Ashley pick herself back up and move on?
"How Ashley changes, there's a date right after a one-on-one date where she's different," explained Chris. "There's no actress, there's no nothing. There's no Bachelorette. She's very raw, very vulnerable — and the rest of this season, she's that girl and she's afraid."
Watch Chris discuss Bentley's explosive appearance on The Bachelorette, via E!. Do you understand why Ashley is so upset? Sound off below!