NEWS
Bachelorette Ashley: Stabbed in the Heart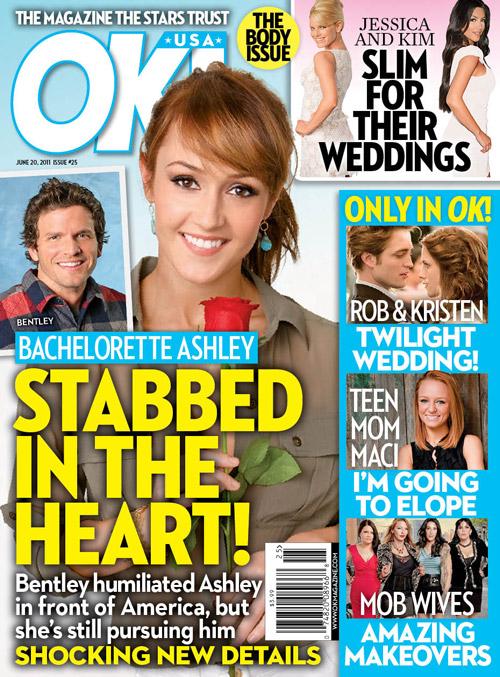 The Bachelorette: This season of the ABC reality show has only just begun, but Bachelorette Ashley Hebert is already heartbroken. Seemingly two-faced contestant Bentley Williams has bad-mouthed her to the cameras while pretending to like her. Now that he's gone (he left so he could go home to his daughter), his friends reveal who the real Bentley is — and how, despite warnings from previous contestants, Ashley could be so smitten with him!
Article continues below advertisement
Teen Mom: Friends of Teen Mom Maci Bookout say she won't be ready for an elaborate wedding when she marries Kyle King and is much more likely to elope. Whatever she does, friends say she'll keep it small. Plus, find out the results of a few celebrity elopements.
Twilight: As Twilight star Kristen Stewart is busy filming Snow White and the Huntsman in L.A., her beau Robert Pattinson is bonding with his Cosmopolis co-star Sarah Gadon. Find out why insiders say Kristen should be jealous. Plus, the wedding scenes from the new trailer for The Twilight Saga: Breaking Dawn — Part 1.
Jessica and Kim: Let the diets begin! Each determined to be a slim bride, Jessica Simpson and Kim Kardashian have set the wheels in motion on their respective diet and fitness plans. Find out how each star plans to cut back. Plus, Kim dishes on relationships.
Body & Soul Blowout: OK! brings you the top 20 star secrets for a superhot body. Learn the tips and tricks of A-listers, such as Halle Berry, Gwen Stefani and Beyoncé (to name a few), and get some key advice from experts like Ashley Conrad and Tracy Anderson.
Article continues below advertisement
OK! Style Week: OK! shows you how to smell like a celebrity (in stars' scents, like Outspoken by Fergie), how to keep the flyaways out of your lip gloss, as J.Lo did on the American Idol finale, and how to wear that trendy straw fedora. Plus, the stylists for trendsetters Sienna Miller, Rachel Bilson and Kate Bosworth reveal tips for dressing like their clients. And, how to pack the perfect beach bag!
Plus: The Mob Wives makeunder — OK! removed the sequins and heavy makeup to show the soft side of VH1's toughest ladies; Details on celebrity real estate — Mischa Barton and Sharon Osbourne are renting out their expensive homes, but which one is worth the most dough?; Experts debate whether singer Rihanna's new music video sends a dangerous message; Find out where to get that perfect gift for Father's Day; E! News host Giuliana Rancic on the stars that sizzled at the MTV Movie Awards; Celebrity nutritionist Keri Glassman weighs in on actress Denise Richards' daily diet; And check out OK!'s fun photos of stars at the MTV Movie Awards after parties!