NEWS
Emily's Baby Bombshell! Pregnant Maynard Reveals Shocking News About Her Growing Family PLUS Why She'd NEVER Let Her Kids Go On 'The Bachelor'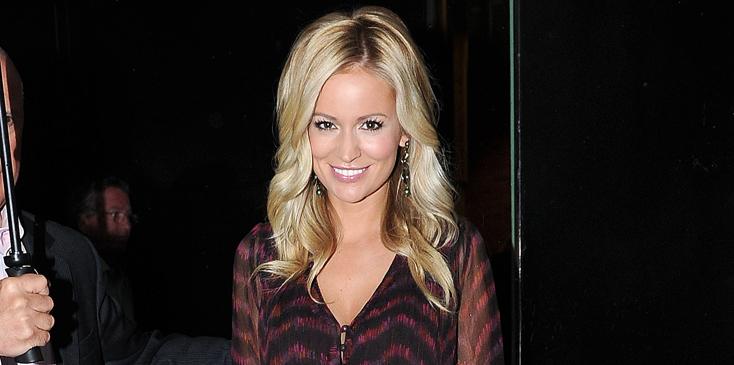 From a working career to expecting another baby, Emily Maynard is learning how to balance it all...day by day!
The former Bachelorette star is currently pregnant with her third baby and this time around, she put her foot down when it came to her morning sickness! "Mine actually got worse at night, which made it hard, then you're tired and I just never enjoyed my pregnancy but this time I talked to my doctor after trying everything," she said to OKMagazine.com exclusively. "I hit a wall and talked to my doctor and he prescribed Diclegis, it helped tremendously! I'm finally at a point where I can enjoy my pregnancy." The best advice she can give an expecting mother experiencing this is "talk to your doctor!"
Article continues below advertisement
The mother to an 11-year-old daughter, Ricki, from a previous relationship, and 1-year-old son, Jennings, admitted that the pregnancy definitely came as a surprise! After taking a pregnancy test, she FaceTimed with her husband, Tyler Johnson, "in a panic" since it happened so quickly after welcoming their first child together. As for Ricki, she revealed the exciting news to her by having Jennings wear a 'Big Brother' t-shirt and is so excited about the newest addition.
Now that she is finally at a point where she can enjoy being pregnant, she is opening up about her morning sickness experience to help other expecting mothers. "A lot of moms are really quiet about it because it's just something that is expected, it's something that happens with pregnancy, and you just have to suck it up, suffer through it, but I reached a point, 'There's no way I can take care of two kids and be as sick as I am!'" Adding, "Whether you're sick all day like I was or just feel a little in the morning, I learned that you don't have to have either one and that has been such a blessing for me."
Article continues below advertisement
When she was expecting Jennings, she did find out the gender, but not this time! "We are going to let it be a surprise," she said of baby number three's gender. And as for more kids, Emily joked to ask her after the third is born, but if it happens they would be considered "extra blessings."
With three kids, Emily revealed just how she would feel about them interested in going on the reality show The Bachelor or Bachelorette! She joked that she would "beg them not to do it," but "at the end of the day it's their choice!" Adding, "I would offer to take them on a trip around the world if they didn't do it!"
With her third baby due soon, Emily is focused on being a mother and hopes to make exciting announcements about upcoming projects shortly after her newest bundle of joy arrives!