NEWS
'Bachelorette' Finale Recap: Ashley Hebert Gets Engaged to J.P. Rosenbaum, Ben F. Gets Heated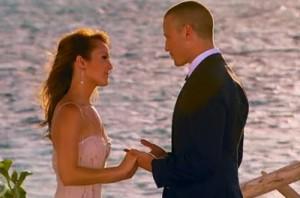 After enduring an emotional roller coaster on her quest to find love (even being called an "ugly duckling" on national TV), Ashley Hebert had her happy ending on The Bachelorette. She found true love and was proposed to by J.P. Rosenbaum, but the days leading up to her final decision weren't easy, as she felt opposition from her sister Chrystie about the man she loved and had the impossible task of saying goodbye to someone she cared deeply about, Ben Flajnik.
Article continues below advertisement
"I don't want to leave here wishing that I did or said something different. I'm leaving here with my husband," Ashely said at the beginning of the episode. "I'm so happy that everything happened because it led me right here. I feel so confident about my feelings for these two guys and I'm so excited to get engaged in the South Pacific."
Ashley seemed like a new person, after at tumultuous season of being knocked down and the wrath of contestant Bentley Williams. She was also very confident in her final two men.
"Ben is such a unique guy," she explained. "Every time I'm with him I'm so happy. It's effortless."
But the undeniable spark remains with J.P.
"I have this passion with J.P. that I've never felt before."
She then turned to her family, who flew to Fiji to help her make the tough decision. Ashley shared her sister's opinion will be the most helpful and hopefully guide her in the right direction — but unfortunately it only causes strife.
Article continues below advertisement
J.P. made his introductions well with the family, but Chrystie wasn't feeling the chemistry between the two.
"Are you ready for the tough questions," she asked J.P. in front of the whole family. "Ashley's smitten, are you smitten?"
"Completely. I have been for a while," he gushed.
Chrystie then asked Ashley if J.P. makes her laugh, and Ashley hesitated and doesn't answer the question, which made her sister even more skeptical.
"He is a little more reserved than I am," Ashley said. "I laugh at myself more."
Chrystie and Ashley's mom have some one-on-one time with Ashley, and her big sister attacked her immediately.
"What's going on here. I don't think he's the one. I don't see it," Chrystie said. "I think you're too much for him. I think your too young, and he's a little older and a little more demure."
Article continues below advertisement
Ashley broke down in tears, muttering "It's heartbreaking because I really, really care about him."
She added, "The first thing you say walking in here, is 'He's not for you.' "
"I don't think he is," her sister maintained.
Then Chrystie met with J.P. and dropped the same bomb explaining that she was tough on Ashley and "skeptical" of their relationship, something that is not common for her.
"Usually I trust Ashley's opinion but on first glance I don't see you guys together," she told J.P.
"I wasn't expecting that. Was there something that stood out?" he asked looking shocked.
Chrystie gave the example of Ashely not being able to pinpoint if J.P. made her laugh.
"Every time I'm around Ashley I'm smiling ear-to-ear, that's a reflection of her. I want all of you to walk away from this knowing that I'm 100 percent in love with her. There's a chemistry that is just undeniable when were together. It can't be put into words."
Article continues below advertisement
But Chrystie didn't buy it and was still concerned about their 8-year age difference (she is 26 he is 34) and said that he is too old, mature and "set in his ways."
J.P. tried the best to defend himself.
"Yea I have a lifestyle in New York and I'm willing to change it," he explained. "I know yes I'm set in my ways now, but that's not how I want it to be. I do love her and I do want to be with her."
Chrystie still would not give in.
"I'm still struggling with weather it makes sense all together," she said. "I know what its like when she is being herself and she is completely happy. I think I expected to see more of a connection. I told her I feel like I saw more of you when you brought Brad home."
She added: "I don't know if there is anything you can turn around," making it clear that she wouldn't be happy if J.P. proposed to Ashley.
Article continues below advertisement
J.P. then vented to the cameras.
"Talk about judging somebody, she doesn't even know me. To say you don't feel it... f*** that," he said. "To come so far and have something like this blow up, I'm mad. The worst part is it's her sister, and it's going to influence how Ashley feels."
He then told Ashley he felt "defeated" and that he feared Chrystie's views would changed the way Ashley felt about him.
"The worst part was that she saw more with Brad," he explained. "It stung"
And Ashely really could not provide him with the solace he needed.
"I was expecting a little more out of her," J.P. said. "I wanted her to back it up. I wanted her to say, don't worry I'm not going to let if affect the way I feel about us. To have her question things now, couldn't be worst timing. I'm in love with Ashley, and nothing can change that. So if today changes her mind about me, then I'm definitely not proposing."
Article continues below advertisement
Ashley can't seem to let her sister's opinions go, and holds a separate meeting with her later on in the episode to discuss her feelings for J.P. — a clear frontrunner during the entire competition.
"It was harsh and uncalled for and I need to talk to my sister and if that were to happen again I'm scared I'm going to leave here alone," she told the camera.
She then explained to her sister that she was nervous for J.P. to meet her family because she cares for him so much, and her nerves may have been misconstrued as "discomfort."
"You want me to like him, and that's your issue," her sister said. "Am I here to sugarcoat it? I mean I don't get it. I have to be true to how I'm feeling and I'm not feeling it."
She then asked her sister if she thought Ashley was better off with Brad Womack, when she was a contestant on The Bachelor.
Article continues below advertisement
"I'm not saying you would be better with him, but the way you felt and the way that you looked at him, you were more yourself," her sister explained
Ashley then continued to sob, as she calls her sister a "b***h."
Then it's Ben's turn to meet the family, and Chrystie seems to be a fan of the 28-year-old winemaker from Sonoma, Calif.
Chrystie felt that Ashley was being herself around him and is fun and excitable. Ashley even did her "dog voice" — a shrill tone/baby voice she uses when interacting with pups — and Ben showed off his too!
"I think it went well all around. I've been accepted with the family and this is how I know it's right," Ben shared. "The next time I see these people I will be engaged to Ashley."
Then Ben and Ashley went on their last — very romantic — on-one-one date.
The stripped down and hopped into a healing mud pit where they rubbed each other down.
Article continues below advertisement
"Typically you think there is nothing sexy about mud at all until you get into a steaming mud pit with someone you are really attracted to," Ben said. "Then mud becomes sexy. When your lubing each other up with mud, there is something erotic about it."
"All I wanted to do is rub that mud all over his body like ten times," Ashley said, as she joked about "moving lower."
Then during the night portion of their date, Ben finally told Ashley he loved her.
"There are multiple times when I wanted to tell you that I'm in love with you," he gushed. "And I didn't think that would happen in a million years."
Ashley gazed into his eyes and pulled him in for a kiss.
"I feel that love with Ben," she shared, clearly leading him and viewers on until the last second. "I feel completely free when I with him. I'd be very, very lucky to be kissing him the rest of my life."
Article continues below advertisement
"Based on that kiss I actually think Ashley is telling me she loves me the only way she can right now," Ben told the camera. "I feel content. I feel like I can kiss this girl for the rest of my life."
Then it's J.P.'s turn to have his last one-on-one date with Ashley. The couple strolled the beach and talked about their journey.
"It caught me off guard with my sister and it made me question, but any good relationship has to be questioned," Ashley explained to J.P.
"I know she is wrong. I never thought about trying to explain us to anybody. It just works," J.P. said.
Ashley explained she wanted to be in a dynamic relationship.
"That is what we have," J.P. insisted. "You have to keep the fire going. I want us to start a new life together. I'm at a point in my life, where I'm willing to give up a lot. I want you to be happy. When your happy, I'm happy."
During the night portion of the date, it became clear that J.P. was going to win Ashley's heart. He gave her a photo album with their first photo as a token of his affection, along with a heartfelt note.
Article continues below advertisement
"I get lost in J.P. I am completely infatuated with him. To read the message that J.P. wrote me, I was so touched, I was like is this real," Ashley gushed. "The end is in sight and everything that I dreamed of can be coming true."
Ben felt confident in his decision to propose to Ashley, and on the final day, before Ashley could even reveal her decision, he got down on one knee and proposed.
"You don't have a ring on your finger," Ben began when he greeted Ashley for the last time. "Before you say anything, I'm very confidence in my feelings. I want to thank you for making me feel vulnerable and open with you. It makes me able to do this."
He got on one knee and Ashley immediately started to cry.
"I want you to know this is the hardest thing that I've done here," Ashley told him immediately. "This is not easy. I care about you so much."
He just walked away — "To tell a girl I absolutely love then, that takes a lot. "
"I never thought we were going to say goodbye like this," Ashley said.
Article continues below advertisement
"Don't sugarcoat it," Ben pleaded. "You can't leave something like this on good terms. Right now I'm in utter shock. In disbelief. J.P.'s a wonderful guy. I'm sure you will have a nice life together."
He continued to vent — "I don't know what the f**k just happened. That's the most vulnerable I have ever been with anybody. I got down on one knee and proposed to this girl. I didn't see this one coming."
He continued: "J.P. is a safer bet then me, and I think Ashley went safe today. There were no hints. There were absolutely no hints. If I thought there was any doubt in her mind I wouldn't have considered proposing. I thought I was in love. Maybe I was wrong about that too."
Ashley cried, but tried to pull herself together. She explained that she felt awful, but it was something she had to do.
And it all seemed worth it when J.P. proposed, and she had her happy ending.
"I don't think about now, I think about forever, and it's hard to know," J.P. said. "What I do know for absolute certain is that I'm madly in love with you — I'm so in love with you. You're the one. You're it."
And she said yes!
Catch clips from last night's episode, via Hulu, below!
Ashley Breaks Ben's Heart — Watch his angry departure.
J.P. Proposes to Ashley!