NEWS
Bachelorette Jillian Harris Sets a Wedding Date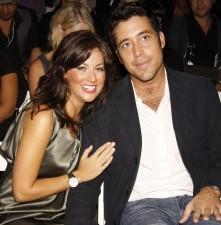 The current season of The Bachelor may already be mired in an on-set scandal, but there's good news for the franchise: Former star of The Bachelorette, Jillian Harris, has finally fixed a date to give Ed Swiderski a ring rather than a rose.
Chris Harrison, the host of The Bachelor, tells Radar Online that the happy couple has set a date to tie the knot after finding love on reality TV last summer.
"They have a time, a date, and a place set and despite what was crazily reported and all that stuff they are doing fantastic," says Chris.
Article continues below advertisement
After Jillian's dramatic proposal to Ed last year, two women, Lindsay Johnson and Bethany Steffan, claimed that they'd slept with Ed during his relationship with Jillian.
"It was strange the way they were attacked and kind of still are, but they are kind of like what the hell are you going to do? They are living their lives and they are doing good," adds Chris.
"With their celebrity status, being attacked is part of the deal but to be attacked like they were absolutely affected them and it was tough for them to deal with. I mean they kind of leaned on the producers, leaned on me, and leaned on their friends, and they've just tried to get away from it."