NEWS
'Bachelorette' Men Tell All Recap: "Ugly Duckling" Ashley Hebert Cries; Bentley Bashed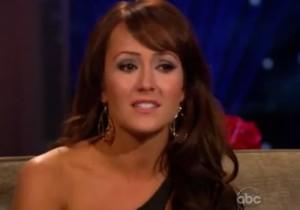 Ashley Hebert greeted all the men she dumped last night — and a few who walked out on her — during The Bachelorette: Men Tell All special on ABC. And while she had some guests join her from past seasons, a substantial portion of the show was dedicated to the beguiling Bentley Williams, who infamously bad-mouthed Ashley during his time on the show.
"We did invite Bentley to be here today," host Chris Harrison explained, "but unfortunately he declined."
Article continues below advertisement
So with Bentley's absence, came the Bentley-bashing from the guys who were there.
First up, Blake Julian (one of the new contestants on Bachelor Pad) called him "a narcissist, a liar, and a coward," adding that what he did was a "terrible display of humanity."
Tim — aka Drunk Tim who infamously left the house the first night for falling asleep before even getting to know Ashley, said that Bentley "had a game plan going in" and Nick chimed in that what Bentley did was "crappy," because it took away time from the guys who were there for all the right reasons.
Even Michelle Money was on hand to talk about Bentley — she was the one who let Ashley know in the beginning that the 28-year-old single dad form Salt Lake City, Utah was up to no good.
"I don't care what anyone says, we want what we can't have .... in her defense, he is a charmer: he is good at what he does," Michelle said. "We are all guilty of falling for the bad boy at some point."
Article continues below advertisement
Before the guys took the floor to bash Bentley, ABC showed a package of his evil ways where he called his fellow bachelors "tools" and "freaking idiots.
"You know it's unfortunate he had to call us all 'tools' at the house ... to see him being so dishonest, I can think of three words to say to him: Go f**k yourself!" Chris D. said directly.
When Ashley came out she explained that the hardest part of the whole process was being played on national TV and "being called an ugly duckling."
"I've seen how everyone reacted to what happened with Bentley, and that's been really hard — figuring it out when everyone else did and feeling like a fool," she told Chris.
She added that if she could "go back" she would have not spent so much time on her relationship with Bentley (who openly wanted Emily Maynard to be the Bachelorette).
Article continues below advertisement
"I'd change that," she said. "Wasting a lot of time is probably my biggest regret."
In an unseen moment on last night's special, Ashley did explain to Chris about the questionably-placed container of Vaseline on her nightstand next to her bed.
"I put Vaseline on my lips as ChapStick," she insisted, via The Los Angeles Times showtracker blog. "I put it on my lips, but also a little bit on the outside. You don't want to wake up next to me – that's all I'm saying."
Tonight Ashley must choose between J.P. Rosenbaum and Ben Flajnik on the finale episode! Who do you think will win?
Catch some clips from last night's special below!
Jeff auctions off his mask